Emilio Prados
Born in Málaga in 1899, Emilio Prados studied in Madrid's Residencia de estudiantes, initially in the experimental school for adolescents, where his tutor was the poet Juan Ramón Jiménez. At the Residencia his friends included García Lorca, Dalí and many others who have collectively become known as the Generation of 27. He also studied in Freiburg although he did not take a degree. In 1921, his delicate health required him to spend a year at the sanatorium in Davos, Switzerland. In 1924 he returned to Spain and with the assistance of Manuel Altolaguirre founded Litoral, a journal that published all of the most notable poets and artists of the Generation of 27: Aleixandre (also a childhood friend), Lorca, Cernuda, Guillén, and Hinajosa among others. In 1925, with the collaboration of Altolaguirre, Impresa Sur was founded. Interestingly the press work was done by the sons of local fishermen . Prados assisted in their education and supervised their apprenticeships.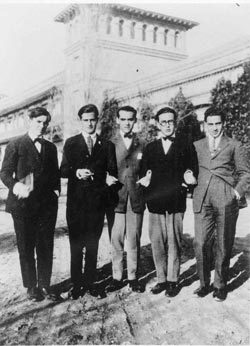 José Maria Hinojosa, Juan Centeno, Federico Garcia Lorca, Emilio Prados and Luis Eaton (1924)
In the climate of violence that broke out in Málaga after the start of the Spanish Civil War, he settled in Madrid and joined the Alianza de Intelectuales Antifascistas. He helped to organize the Second Congress of International Writers in Valencia, an event attended by Langston Hughes, Octavio Paz, Pablo Neruda and Ernest Hemingway, among others.  His books of poetry in this period included Destino Fiel for which her won the National Prize in Literature (1938). With the victory of the Nationalists, Prados entered exile, travelling through Paris and New York, before taking up residence in Mexico City until his passing in 1962. This period of exile is considered his most productive with respect to his poetry. Jardín cerrado, Río natural, and Circuncisción del sueño were composed in these years.
Links