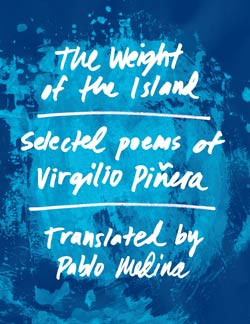 Preorder now for March, 2015 delivery.
The Weight of the Island
By Virgilio Piñera
Translated by Pablo Medina
ISBN 978-1-935084-82-2
168 pages: $18.00
March, 2015
---
Dramatist, novelist, critic and poet Virgilio Piñera (1912-1979) was one of the greatest writers of twentieth century Cuba. Little known outside the island, his poems have been called "feverishly tropical" and "champions against indifference." With a linguistic skill reminiscent of Borges and a gift for metaphor that rivals Neruda and García Lorca, Piñera's poems celebrate daily life in Cuba with brilliance and humor. Pablo Medina's remarkable translations from The Weight of the Island (La isla en peso), the first book-length collection of Piñera's work in English, now renew Piñera's gifts to the world.
---
Praise for Virgilio Piñera and The Weight of the Island
---
Telluric, absurdist, surrealist, feverishly tropical, Virgilio Piñera's The Weight of the Island is a poetic cosmos without parallel. Piñera's voice is disturbing, anguished, dissonant and yet deeply moving. You feel the full emotional and psychological presence of the man in every verse he penned. We can rejoice that the English-speaking public can finally become acquainted with this utterly original poet. Only an artist of Pablo Medina's gifts could have achieved the miracle of bringing Piñ era fully alive into English.
-- Jaime Manrique, author of  Cervantes Street
When we read the poetry of Virgilio Piñera we must try to identify the invisible or the mystery that lies behind his words, for his language is filled with doubt and irony as the Cuban poet works the regions of despair, desolation and  loneliness.  Through Medina's translation  the reader can access the invisible and hidden in Piñera's poetry, the mystery between the lines which Pablo Medina deftly uncovers. Medina's translation of Piñera's  poetic words is vivid and sensitive and becomes a recreation of that poetry rather than a mere translation. If Piñera as a poet translates his desolate life into a poetry which is fierce and bitter, Medina's  English rendition of that poetry captures the vitality of the original Spanish and conveys the fierceness of a poet who felt imprisoned by  "the cursed condition of water on all sides."
--Professor Isabel Alvarez Borland, author of Cuban America Literature of Exile: From Person to Persona
Virgilio Piñera's poetry occupies the fragile space between sadness and beauty, between disillusion and reality.  His poems are quiet champions against indifference, affirmations that seek to both grieve over and honor our human existence.  Pablo Medina's translations are enduring, necessary treasures.
--Richard Blanco, Obama inaugural poet and author of The Prince of los Cocuyos
Virgilio Piñera has been too long ignored amid a louder, at times discordant music of twentieth century Latin American poetry. With these subtly innovative and accessible translations in The Weight of the Island, poet-novelist Pablo Medina now sets Piñera in his rightful place on the international stage alongside poet-icons José Lezama Lima and Nicolás Guillén. Piñera's early work is fierce and surrealist, presenting the torrid sensuality and suffocation of his most beautiful island―Cuba―simmering in all its ebullient tropical illusions. Spanning the era when Cuba was a brand new country set free from both the Spanish and Americans to make its own history, moving ahead through hard Revolution then post-Revolution, this smart selection moves back again in time into the more interior and privately experienced, meant also to present Piñ era's more intimate writing, his personal evocations of love and disillusionment, his closely observed poems of absurd social behaviors and mechanical decorum played out against the certainty of mortality. Yet Piñera's poems are all celebrations of life, divine spirit cries that break through the stifling silence of our permanent night. Medina's remarkable translations in The Weight of the Island now renew his gifts to the world. 
--Douglas Unger author of Voices from Silence