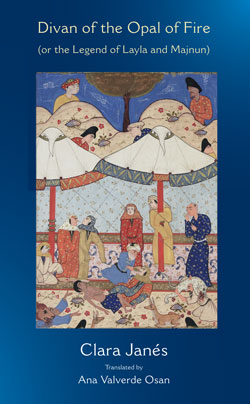 Available October, 2015.
Divan of the Opal of Fire
By Clara Janés
Translated by Ana Valverde Osan
ISBN 978-1-935084-86-0
182 pages: $18.00
December, 2015
---
Long before there was Romeo and Juliet, there were Layla and Majnun, a pair of star-crossed lovers whose story appeared in more than a hundred versions throughout the Arab world. Renowned Spanish poet Clara Janés was inspired by the beauty of this tale and by eleventh-century Persian poet, Nizami, to create a unique, twentieth-century version in which the voices of both lovers acquire equal weight. Written in 1996, Divan of the Opal of Fire is part of the significant corpus of long poems written in Spain by women poets in the late twentieth century, after the death of Francisco Franco.
---
Praise for Divan of the Opal of Fire, Clara Janés and Ana Valverde Osan
---
Divan of the Opal of Fire revisits the Persian legend of Layla and Majnun, adapting an ancient language of star-crossed love to the purposes of the late twentieth century poet reclaiming the potencies and possibilities of myth (re-)newed purpose. Clara Janés adapts the epic poem and legend to claim the erotic voice of the poet-singer for herself and her sister poets. Against the misogyny of ancient-though-still-active archetypes of silent, obedient, domesticated women, Divan of the Opal of Fire posits a narrative of transcendent love told by 'a pilgrim-ess of love', woman as seer, teller, compeller of audiences. As H.D. recuperated the figure of Helen, Janés offers her own lyrical epic, a wild vine's fruit pressed to new wine.
--Marthe Reed, author of Nights Reading :: Burton's Thousand and One ::
The brilliance of Clara Janés, master in the synthesis and poetic essence of the voice of love, and that of Ana Valverde Osan, skillful in the difficult accuracy of her creative translation, are evident in this book.
--Luis Alberto Ambroggio, author of Difficult Beauty: Selected Poems (1987-2006)
Ana Valverde Osan has produced a gorgeous translation of Clara Janés' epic poem of lovers torn apart by culture. Janés' epic in short lyrics is filled with the cultural and religious complexity of Spain, and her attempt to re-appropriate patriarchal myths makes the appearance of this translation especially important.
--William Allegrezza, author of Collective Instant, and The Salt Companion to Charles Bernstein