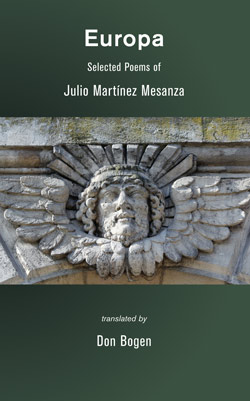 Available October, 2015.
Europa: Selected Poems of Julio Martínez Mesanza
Translated by Don Bogen
ISBN 978-1-935084-90-7
132 pages: $16.00
October, 2015
---
This bilingual collection of more than forty poems brings the work of one of the most distinctive writers in Spain today to English-speaking readers for the first time. Born in Madrid in 1955, Julio Martínez Mesanza is a significant figure among the generation of poets who came into prominence after the death of Franco. With subjects ranging from the Roman legions to D-Day, from the Babylonian exile to the haunted landscapes of domestic loss, these poems are engaged with the past and at the same time profoundly contemporary, illuminating the ethical issues at the heart of civilization, warfare, and daily life. 
---
Praise for Europa
---
Vivid, immediate, compressed, often violent, these poems have a lot to offer American readers and writers. Julio Martínez Mesanza presents the pastness of present things. Thanks to translator Don Bogen, that quality is available to us, with its qualities of urgency, terror and redemption.
—Robert Pinsky
Martínez Mesanza is refreshingly unlike any contemporary poet I know. His war poems gaze with what translator Don Bogen aptly calls "measured deliberation" on past and present, victim and executioner, horses and humans, and they have a chilling and strangely clinical authority, like autopsy photos. And Bogen is their ideal reader and translator: he frames them with an exemplary introduction and brings them to life in English with all the formal and tonal subtlety and restraint that characterize his own work.
—Geoffrey Brock
The sparkling translations of Europa, Don Bogen's lyric gift to the English-reading public, prove a fine match for Julio Martínez Mesanza's considerable talents. These soulful renderings of a singular poetic world dotted with mysterious towers and debris-strewn battlefields are a truly wonderful introduction to a Spanish author uniquely poised for further discovery.
—G. J. Racz
This first translation of prominent madrileño Julio Martínez Mesanza follows, in publication date, the first translations of his generational predecessors Emilio Prados, José-María Hinojosa and Antonio Gamoneda. Diálogos now enables master translator Don Bogen to bring a first selection of Martínez Mesanza's work to the English-speaking world.
Martínez Mesanza's dreamy scan of European history and his inhabitance of old European battlefields has the public clamor of other Diálogos books—but also ("I don't know myself in spring. I start/to multiply offenses everywhere") the private glimmer of genius. Americans will be made wise.
—Peter Thompson