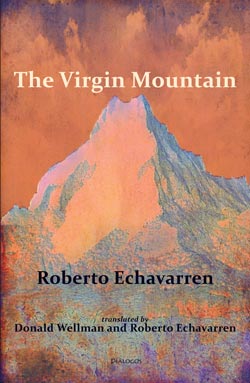 Order paperback:
by Roberto Echavarren, translated by Donald Wellman and Roberto Echavarren
ISBN: 978-1-944884-23-9 (pbk)
(October, 2017)
---
In The Virgin Mountain, the great Uruguayan poet, novelist and essayist, Roberto Echavarren, continues his investigation of twenty-first century modernity, this time in the context of desire and the natural world. Drawing from theorists and philosophers like Michel Foucault and Gilles Deleuze, as well as from his Latin American poetic forebears like Vallejo and Neruda, in this long poem Echavarren mines the depths of a mountain both natural and symbolic, following veins of desire which reside in basic human (and animal) impulses, sex and waste material fused into an erotic materiality from which the language arises. The Virgin Mountain represents the highest level of Echavarren's accomplishment, as he continues the explorations of his art and its limits, always subject to violation and experiment. Echavarren, for many years Professor of Comparative Literature at New York University, is the author of more than twenty books of poetry and literary criticism on subjects including Latin American Literature, Surrealism, Neo-Baroque poetry, Russian and other European literatures, poetic and gender theory. He is a co-editor of Medusario: Muestra de Poesía Latinoamericana.
---
You don't know Latin American poetry unless you know Roberto Echavarren. The Virgin Mountain shows off his wit and innovation, his neo-baroque style blended seamlessly with surrealism, translated beautifully by Donald Wellman in collaboration with the multilingual author. Step into this long poem, and the way you see gender, nature, history—the world—will be transformed forever.
—Jesse Lee Kercheval, Dorset Prize winning author of America That Island Off the Coast of France
The poetry of Echavarren is a vibrant jungle, a dark and devouring river, a great landmass forever shifting…
—Anthony Seidman, author of A Sleepless Man Sits up in Bed
The Virgin Mountain is an uncharted territory of the mind, a place words hadn't reached before. The reader experiences the fascination of discovery, the conclusion of a trip that is just beginning. Great poetry such as this is the destiny towards which we travel.
—Eduardo Espina, author of The Milli Vanilli Condition: Essays on Culture in the New Millennium
There are poets of one poem, poets who wrote for a short period of time, and poets such as Roberto Echavarren who write poetry across decades in an impeccable state of maturity, a maturity that implies a diversity of expression and voices, a fascination with movement and connotation. We have here a poet who sustains this maturity in everything he does. Video and film artist, novelist, translator and one of the most relevant living critics of the Hispanic world, Echavarren is a guide, a permanent standard to younger generations.
—José Kozer, author of Tokonoma
---