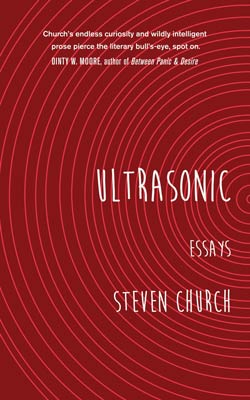 Available now:
---
Review this title on


---
Ultrasonic
ISBN 978-1935084-70-9
180 pages: $16.00
December, 2014
---
Ultrasonic is a "brilliant and disarming" collection of linked essays that explore how sound can be used to search for deeper meaning beneath the surface of everyday life. Beginning with his 2011 Best American Essay, "Auscultation," a piece that is now taught in high schools across the country, Steven Church takes the reader on an associative journey into questions of identity, family, fear, loss, and the politics of space. With a trademark relentless curiosity reminiscent of David Shields, Matthew Gavin Frank or Ander Monson, and the stylistic gymnastics of Lia Purpura, Bernard Cooper or Maggie Nelson, the book explores the emotionally resonant experiences of witnessing a drowning, losing a sibling in a car accident, and raising a young daughter. But Ultrasonic is also a book about the mysteries and wonder of language, a book that considers the various meanings of words like, "dither,"  "sounding," or "loitering;" Even the seemingly mundane word pairing, "crown and shoulder" become, for Church, touchstones for an idiosyncratic meditation on the death of his brother in car accident and the way such losses return in our present lives. At every turn, Ultrasonic dares us to think more deeply about each other and about the world around us. How many times do we see a, "No Loitering," sign and think nothing of it? Church thinks everything about it, using the sign as a way to consider the politics of public liminal spaces and the ways we attempt to criminalize or marginalize those who inhabit such spaces. More than one reader has compared Church's exploration of the everyday and his confronting of himself on the page to the work of Montaigne; and it's true that a stethoscope may never look the same to you again after reading Ultrasonic, but Church is also a mischievous and humorous writer who isn't afraid to imagine what Elvis Presley's last racquetball game might have been like or how he might respond to the ever-present police helicopters in his neighborhood. Like Eula Biss's Notes from No Man's Land or Leslie Jamison's Empathy Exams, Ultrasonic moves in layers and circles of association or juxtaposition, where the meaning accretes as the reader progresses and doubles back over ideas and images. With "equal parts tenderness and rage," each chapter operates both as an independent essay and as an echo chamber for the larger ideas, gazing at our human predicament through such eccentric and varied lenses as trapped miners, stethoscopes, racquetball, language, loitering, violence, Elvis, and the music of torture. The result is, among other things, "one of the oddest and loveliest mediations on parenthood," you'll ever read.
---
Praise for Ultrasonic

Grand and active listening requires real engagement and unexpected risks. In Steven Church's thoroughly alive compendium, the act of listening itself has the power to create identity, lead inward towards irrevocable grief and awe, and outward into the ever-curious world. How "ultra" in its sonic musings can a mind be? Church's intense soundscape considers subjects as ranging as racquetball, idleness, and firefighting, as poetic as word-origins, and as ancient as birth, love, and loss.
—Lia Purpura, author of Rough Likeness and On Looking
Each beautifully crafted essay in Steven Church's Ultrasonic invites the reader into an intriguing new world. From Elvis playing racquetball to the drumming heartbeat of an infant to prehistoric bottom feeders, Church's endless curiosity and wildly intelligent prose pierce the literary bull's-eye, spot on.
—Dinty W. Moore, author of Between Panic & Desire
Steven Church has spent the past decade quietly becoming one of our best essayists, and I've been eagerly awaiting the book containing these deeply resonant essays. By turns humorous, reflective, curious, mischievous, and profound, Ultrasonic gives booming confirmation: Church's is a voice we should all listen to.
—Patrick Madden, author of Quotidiana
If Montaigne were a mad cartographer driven to find the true unnamable intersection of earth and human body, with a heart the size of the sun, he would have looked something like Steven Church. The collection begins as a meditation on the ways in which we use sound to draw chalk outlines around the things we can see only incompletely, and then becomes so much more than that—one of the oddest and loveliest meditations on parenthood I've ever read. I love this book beyond reason, and I love it beyond whatever reason's opposite is too.
—Matthew Gavin Frank, author of Preparing the Ghost: An Essay Concerning the Giant Squid and Its First Photographer
Steven Church writes with the virtuosic intelligence and digressive curiosity of Montaigne, but beneath the desk his feet are planted firmly on a double bass kick drum. These essays rumble and crack with percussive thunder; they thrum with music and rhythm; like the best heavy metal or rap, they kickstart the heart muscle. With equal parts tenderness and rage, Church tunnels through our noise-laden culture to locate a clear signal: it's empathy—for our children, our neighbors, our fellow humans. I can't think of another collection that has moved me so deeply on both sensory and emotional levels. Ultrasonic is a tale told by a literary mastermind, full of sound and fury, signifying everything.
—Justin Hocking, author of The Great Floodgates to the Wonderworld
Like Elvis Presley's legendarily fierce final match on the Graceland racquetball court, these essays ricochet, they zing, they demand our attention. Steven Church's spinning insights often come with lightning quickness—surprise attacks buried in graceful delivery—but his approach is so welcoming I found myself rising back to my feet for return service at every paragraph. Readers who fancy a bout of lively and uncompromising nonfiction will find a worthy opponent in these nimble inquiries about sound, tricks of memory, limitations of the body, and the varied perils of American manhood.
—Elena Passarello, author of Let Me Clear My Throat