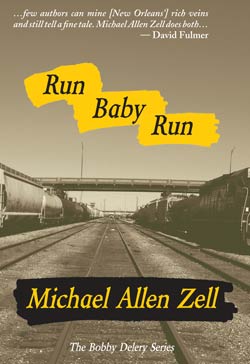 Special Offer: Preorder Law & Desire  (the second book in the Bobby Delery series) and receive both Law & Desire and Run Baby Run for just $20.
Run Baby Run
ISBN: 978-1-935084-84-6
170 pages: $14.95
September, 2015
---
Criminologist Bobby Delery has just returned to New Orleans after decades away, and NOPD is begging for his help to find almost a million dollars stolen from a French Quarter club. He's only one of many after the money, though. Thieves, church-goers and everyone else ride the sweaty pace from the Ninth Ward to the foot of Canal Street.
With Run Baby Run's compelling mix of gritty realism and dark humor, Michael Allen Zell inaugurates the Bobby Delery series and does for New Orleans what Chester Himes did for Harlem and Dashiell Hammett did for San Francisco.
---
Praise for Run Baby Run
Though New Orleans has always been a remarkable setting, few authors can mine its rich veins and still tell a fine tale. Michael Allen Zell does both.
— David Fulmer, author of the Storyville mysteries
Run Baby Run shows the excellent writing and story-telling ability of Michael Allen Zell. In this intriguing New Orleans-based crime drama, the city is a free-standing character that is central to the plot. I particularly liked Zell's use of metaphor, deftly mixed with the realism of contemporary political ideology and pop culture. A most enjoyable read.
—Roland S. Jefferson, author of The School on 103rd Street, Damaged Goods, and One Night Stand
Praise for Errata
"I swear, the text, the actual typed text of Errata itself seems swollen with meaning not simply the humid atmospherics of New Orleans. Swelled up, bled and run together into this concoction of pulpy fictive essaying. Michael Allen Zell's text is evocative, efficacious, effortlessly magical. These are words making love to words, wrapped up in sheets of steamy grammar all transitive, diagramed to hell and back. Come for New Orleans, stay for new oracles."
Michael Martone, Author of Michael Martone and Four for a Quarter
---