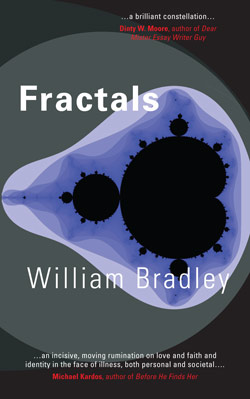 Order now:
Note: In view of William Bradley's untimely death, we are offering this book at a reduced price of $12.50.
We have also reduce the price of the Kindle ebook to 5.99, which should go into effect 8/30/17. 
---
Fractals
ISBN 978-1935084-89-1
150 pages: $16.00 (Special price reduction to $12.50, 8/29/17)
February, 2016
Note: We are saddened to learn this morning (8/29/17) of William Bradley's untimely death. He will be sorely missed by us at the press and by his many readers, friends and admirers. We have reduced the price of the book to make it more accessible to those who are not yet familiar with his inspiring and generous work.
---
In his seminal book The Fractal Geometry of Nature, Benoit Mandelbrot wrote, "A cauliflower shows how an object can be made of many parts, each of which is like a whole, but smaller. Many plants are like that. A cloud is made of billows upon billows upon billows that look like clouds. As you come closer to a cloud you don't get something smooth, but irregularities at a smaller scale."  In this collection of linked essays, William Bradley presents us with small glimpses of his larger consciousness, which is somewhat irregular itself.  Reflecting on subjects as diverse as soap opera actors, superheroes, mortality, and marriage, these essays endeavor to reveal what we have in common, the connections we share that demonstrate that we are all fractals, in a sense—self-similar component parts of a larger whole.
Praise for William Bradley and Fractals
In William Bradley's debut collection of essays, Fractals, we circle around topics as big and heavy as love, cancer, mortality, family and faith, but we approach them through the critical analysis and appreciation of comic book heroes, soap operas, music, books and pop culture. Bradley seduces the reader with humor and honesty, with a voice that is simultaneously playful and deeply serious. The book moves and grows, accreting meaning and depth as it patterns our experience of the author's life—always reaching for the heart through the mind. Bradley returns to certain subjects through different but self-similar windows, allowing the reader to experience a whole that is greater than the sum of its component parts. Smart, funny, heartbreaking, and captivating, Fractals is a must-read for lovers of essays.
Steven Church, author of Ultrasonic: Essays; founding editor of The Normal School.
William Bradley pays close attention to the world, from soap operas to David Bowie, from the intimacy of marriage to the shockwave of a cancer diagnosis. Thank goodness he does so, because the result is Fractals, a brilliant constellation of personal essays revealing, in vivid prose and with just the perfect measure of wit, the extraordinary patterns that connect us all.
Dinty W. Moore, author of Dear Mister Essay Writer Guy
The outrageous mystery of Fractals is the way in which essays on suffering and doubt become so vividly and sweetly alive. William Bradley has urgent stuff to tell you about cancer but also about soap operas and love and horror movies—all without melodrama or the pretense of irony. Bradley is a boy grown into a man who finds solace in the pantheon of what he calls 'dorkiness' as he summons the imagined children of the future and ghost children of the past. These are the essays you are looking for.
Sonya Huber, author of Opa Nobody and Cover Me: A Health Insurance Memoir
In Fractals we find William Bradley facing experiences both trifling and troubling with grace and humility. He writes with equanimity and eloquence about horror movies and soap operas and chemotherapy and comic books and wavers of faith and doubt. There seems to be no limit to the oddities and profundities, nor to the insights and beauties. In Fractals we find William Bradley, yes, but here, too, we find ourselves.
Patrick Madden, author of Quotidiana
William Bradley deftly balances the ache of knowing the difficult truths of life with charm, laugh-out-loud humor, and grace. In a single turn, he can move from wrestling with the uncertainties built from loss to celebrating the ways in which what we loved then and what we love now are the real and true things that sustain us. Within these varied and vast contemplations of time, memory, faith, fear, death, regret, and the knowledge that the past is forever lost to us, Bradley ultimately urges us to continue to seek the best version of ourselves and to hold on to "what still might be."
Jill Talbot, author of The Way We Weren't: A Memoir
Fractals is an incisive, moving rumination on love and faith and identity in the face of illness, both personal and societal. William Bradley is a thrilling writer and a much-needed voice in contemporary American culture.
Michael Kardos, author of Before He Finds Her
William Bradley has an unerring ability to validate all the ephemera you ever suspected was important but didn't know why. Fractals considers subjects light and heavy, grotesque and sublime, but treats all of them with a discernment that challenges our assumptions about the relationships that bind people, culture and objects. The collection is humorous, moving and honest.
Michael Piafsky, author of All the Happiness You Deserve
Whether addressing matters concerning family, the imperfect art of growing up, love, the ravages of cancer, or one-way trips to Mars, William Bradley's pithy, incisive essays mine small moments that result in large consequences. Fractals is a collection of keen-eyed observations that are framed by the bigger picture of mortality. We're all on a one-way trip and William Bradley is determined to make the most of his; the result is a collection of essays that should come with not a warning but a recommendation: This is a book to be read to Warren Zevon's rendition of "Back in the Highlife," played on repeat mode.
John Smolens, author of Quarantine and The Schoolmaster's Daughter
Those of us who love the personal essay have been waiting for this book since William Bradley's wonderful essays started to appear in print about a decade ago. Now, the book is here and, like its author (upon being awakened to the joys of reading by a novelization of Nightmare on Elm Street), I am here to testify that "I didn't just read the book—I devoured it like a Romero zombie devours brains." Trust me, Gentle Reader, so will you. Bradley's brain will fill your brain. You will romp from the joys of Superman and Days of Our Lives to the joys of Flannery O'Connor, Charles Lamb and, of course, fractal founder Benoit Mandlebrot. This cultural range is fun but also necessary, for our hero must do battle with the vindictive chaplain of a Christian college, a terribly mean grandmother, and Hodgkin's lymphoma. These essays are full of enviable accomplishments but most of all they tell us a love story in which our hero finds the beloved Emily, a beautiful Renaissance scholar who is "able to talk about books and art" but who can also "appreciate the sublime genius of Don Knotts's performance in The Ghost and Mr. Chicken." You'll laugh, you'll cry, and you'll have spent your money well. This is a wonderful book.
Ned Stuckey-French, author of The American Essay in The American Century
A fierce and tender exploration of life's great paradox: that the human body can fail us, repeatedly, even in youth, but that the human heart's capacity for love and wonder at humanity is boundless. These fractal-essays, fragmented miniatures representing the whole of one man's story, shimmer like rare jewels. With keen intellect, compassion, and scalpel-sharp wit, this book succeeds where other cancer memoirs do not in illuminating the loneliness and terror of catastrophic illness while rendering unstintingly the beauty and oddness of ordinary life. A love letter to his wife, and to daytime TV, David Bowie, Don Knotts, car travel in the boonies, middle school dorkiness, Marvel comics, and the essay itself, Bradley's cumulative self-portrait illustrates Michel de Montaigne's adage that "Every man has within himself the entirety of the human condition." Funny, wise, sad, and uplifting, this collection of taut essays is a treasure-trove.
Natalia Rachel Singer, author of Scraping by in the Big Eighties