Adam J. Sorkin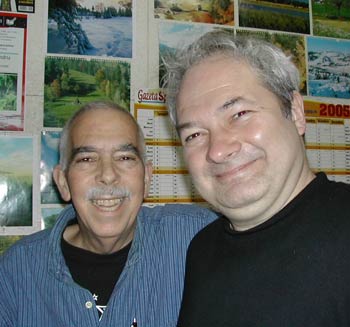 Adam J. Sorkin is a translator of contemporary Romanian literature whose work has been recognized by numbers of awards, among them the Poetry Society (U.K.) Prize for European Poetry Translation, the Kenneth Rexroth Memorial Translation Prize, the Poesis prize for translation, the Ioan Flora Prize for Poetry Translation, and other prizes in Romania and Moldova including the Moldovan Writers' Union Prize. His recent books include A Path to the Sea by Liliana Ursu, translated with Ursu and Tess Gallagher (Pleasure Boat Studios), Ioan Flora's Medea and Her War Machines, translated with Alina Cârâc (University of New Orleans Press), Ion Mureșan's The Book of Winter and Other Poems, translated with Lidia Vianu (University of Plymouth Press), and The Vanishing Point That Whistles: An Anthology of Contemporary Romanian Poetry (Talisman House), all published in 2011. That same year, his 2009 book of Mircea Ivănescu's poetry, lines poems poetry, translated with Vianu (Plymouth), was shortlisted for the Poetry Society prize, and in 2012, A Path to the Sea was chosen the Silver Award winner in poetry as a ForeWord Reviews Book of the Year, while Medea and Her War Machines advanced as a third-round (finalist) selection for the National Translation Award.
Diálogos Books' two collections by contemporary Romanian poets are Mihail Gălățanu's The Starry Womb (translated with Petru Iamandi and the author) and Marta Petreu's The Book of Anger (translated with Christina Zarifopol-Illias and Liviu Bleoca).
Sorkin has had three books published by Bloodaxe Books, Liliana Ursu's The Sky Behind the Forest (1997, translated with the poet and Tess Gallagher), Ioana Ieronim's The Triumph of the Water Witch (2000—the author is collaborator), and Marin Sorescu's The Bridge (2004, translated with Lidia Vianu); selections from The Bridge form the libretto for American composer Michael Hersch's 2014 opera, On the Threshold of Winter. Sorkin also has had books published by BOA—Daniela Crăsnaru's Sea-Level Zero (1999, translated with the author); Northwestern University Press—Crăsnaru's short stories in The Grand Prize and Other Stories (also with the author); White Pine Press—Magda Cârneci's Chaosmos (2006, with the author); Ugly Duckling Presse—Mariana Marin's Paper Children (2006, translated with four collaborators); Black Widow Press—Ruxandra Cesereanu's Crusader-Woman (2008, with two co-translators and the author); and Sheep Meadow Press—Carmen Firan's Rock and Dew (2010, main translator with the author), among other publishers.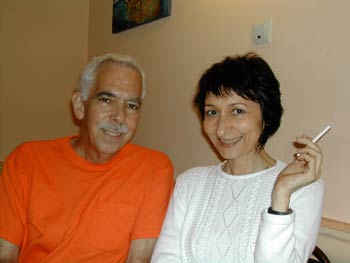 Sorkin's translations have been widely praised. Visions International termed him "our finest translator of Romanian poetry," and the well-known English poet and novelist Alan Brownjohn lauded him in The Times Literary Supplement as "the most sensitive current translator of Romanian poetry into English." The internationally celebrated Romanian prose writer and poet, Mircea Cărtărescu, wrote, "To say that he is the best translator of poetry from Romanian into English is to tell only a part of the truth. Actually, he is the re-inventor of Romanian contemporary poetry in the English speaking world. His translations are unique in their fine balance between accuracy and poetic beauty." Andrei Codrescu dubbed Sorkin "translator par excellence of Romanian poets. Adam has been heroically bringing into English Romanian poets since the days when it was dangerous to do so. His credits include some of the best and most difficult writers." Ezra: An Online Journal of Translation, offered "a sweeping bow" to "one of the deans of translation—certainly the dean of translation from Romanian in the United States." And in Exquisite Corpse reviewer Peter Thompson remarked on Sorkin's "blazing chops as a translator."
Adam J. Sorkin began translating Romanian poetry by a lucky chance (lucky for him—he found a lifelong calling) when, in the spring of 1980 during the first of his two Fulbright-grant sojourns in Bucharest, a colleague at Bucharest University asked him to go over her translations. It was because of this exposure to the quality and power of contemporary Romanian poetry that he caught "the disease of translation," as John Dryden, maybe a bit uneasy about what to call his urge, described his own motivation more than three centuries ago. The book that resulted from Sorkin's initial collaboration came out in the U.S. in 1992, and since that time, he has published more than fifty single-author collections and anthologies of Romanian writing (co-translated with native Romanian speakers, often the writers themselves). His efforts have been aided by Rockefeller Foundation, Witter Bynner Foundation, Romanian Cultural Institute, NEA and three IREX fellowships, as well as by grants from Penn State University. His work has merited publication support from the Academy of American Poets, Arts Council of England, New York State Arts Council, and Soros Foundation. Sorkin has also had two books shortlisted for the Oxford-Weidenfeld Translation Prize and eight translations nominated for the Pushcart Prize. He is Distinguished Professor of English at Penn State Brandywine from which, in 2012, he received the Faculty Research Program Award for his career as a translator.