Brett Evans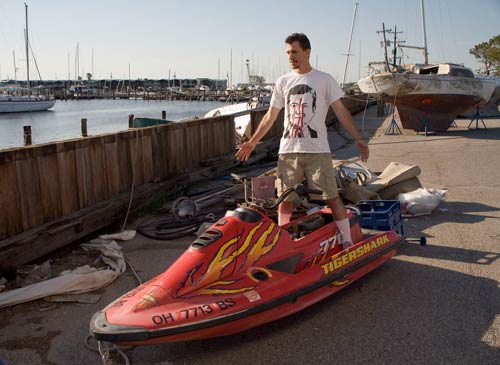 Brett Evans is the author of several books of poetry, including After School Session with Brett Evans (Buck Downs Press) Ready-to-Eat Individual (with Frank Sherlock; Lavender Ink), Slosh Models (Factory School) and I LOVE THIS AMERICAN WAY OF LIFE (Trembling Pillow), along with the chapbooks Steaks of the Buddha Cow, Tang Dynasty, Bacon Assegai, and Nectar Mine, and is a frequent contributor to One Fell Swoop, Lungfull! and unarmed magazines. His K-Doe Codas were featured in the anthology Another South: Experimental Writing in the South and in the book K-Doe: R & B Emperor of New Orleans.
He is a founding member of "tit-Rex, New Orleans" New Orleans' smallest mardi gras parade, which served as inspiration for The T. Rex Parade. (see also http://titrexparade.com )
Brett Evans was born and raised in Bucktown, LA and New Orleans, LA. He fractured his skull by falling off the altar during mass at St. Louis King of France, where he attended grammar school, before matriculating with the Sacred Heart brothers at Brother Martin High School, and eventually taking his first writing class with Rodger Kamenetz at Louisiana State University. He earned a Master of Science in Technical and Scientific Communication at Drexel University in Philadelphia, and now teaches as an Instructor of English on the West Bank of New Orleans.
Upcoming projects are his one-year memoir of pre-storm New Orleans, Night Flag, as well as Versus Verses and Eliot Drawn and Quartered, an erasure of the Four Quartets.
---
Links and Images
I Love This American Way of Life at Trembling Pillow Press.

mp3 of Brett and Frank Sherlock reading from Ready to Eat Individual, at Penn Sound.