Donald Wellman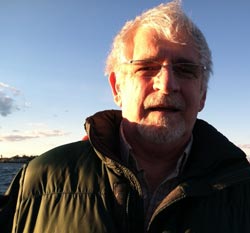 For many years, Don edited O.ARS, a series of anthologies that included titles such as Coherence and Translations: Experiments in reading. Don's critical writing has concentrated on contemporary poetry and its precursors: Pound, Williams, Olson. He also writes on transnational and hybrid poetics, mapping the intersection of poetry and anthropology.
Wellman's most recent volume of poetry is The Cranberry Island Series (Dos Madres 2013), an anthology drawing on the folklore and history of the Gulf of Maine. Peter Anastas writes, "This masterful poem is both mosaic and palimpsest, including local history, personal and family life, and lyrics of great intensity and beauty." Of Wellman's A North Atlantic Wall, Norman Finkelstein wrote, "Part epic history, part ethnography, part journal, all parts suffused with surprising lyric intensity, this work is in the tradition of the Cantos, of Charles Olson's Maximus, of the visionary sequences of Nathaniel Mackey."
Wellman, has translated Emilio Prados into English. Enclosed Garden, Wellman's translation of Jardin cerradohas been published by Dialogos. A highly original book of meditative and mystical poetry, deeply nostalgic for the lost garden of Andalusia, the reader will feel resonances with both the poetry of Garcia-Lorca, Prados's boyhood friend and John of the Cross. Of the translation Jerome Rothenberg writes "Prados is a poet powerful in his own terms and shown herein a telling transcreatioin into English."
Wellman is the authorized translator into English of the poetry of Antonio Gamoneda, (Cervantes Prize 2006). Gamoneda is highly regarded in Spain and throughout the world because of the relation of his poetry to subjects of witness and suffering under repressive totalitarian regimes. The work is trenchant, sometimes, difficult, always highly lyrical. Wellman has translated two of Gamoneda's books into English, most recently Description of the Lie (Talisman House, 2014), a book that served the vital function of opening Spanish literature to possibilities of honesty and freedom of expression after the death of Franco. Wellman also translated Gravestones (UNO Press, 2009), a highly concentrated address to the poet's memories of repression in the years following the Spanish Civil War.
---
Links:
Review of Gamoneda translations in Jacket2
Talk on Olson's Prosody at the Louisville Conference on Literature and Culture Since 1900. The talk has been posted on my blog, Immanent Occasions 
An interview with Lucina Schell on my translation of Antonio Gamoneda's Description of the Lie
Antonio Gamoneda's "Cold of limits," from Libro del frio. Brooklyn Rail, In Translation, July 30, 2013. 
Translations from Elvira Hernández, Germán Carrasco and Héctor Hernández Montecinos in The Alteration of Silence: Recent Chilean Poetry, eds. Galo Ghigliotto and William Alegrezza. Diálogos, 2013.
"Hands." Nagualli, July 30, 2013.
Description of the Lie: a translation of Descripción de la mentira by Antonio Gamoneda, Talisman House Editions, January 2014. 
The Cranberry Island Series. Loveland, OH: Dos Madres, 2013. 
A North Atlantic Wall, Loveland, OH: Dos Madres, 2010.
Gravestones [A translation of Antonio Gamoneda's Lápidas], New Orleans: University of New Orleans Press, 2009.
Prolog Pages. Tokyo and Toronto: Ahadada, 2009.