G. J. Racz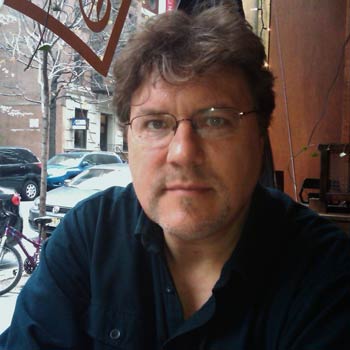 G. J. Racz is associate professor of Foreign Languages and Literature at Long Island University— Brooklyn, review editor for Translation Review, and past president of the American Literary Translators Association (ALTA). 
In addition to his critical writings on literary translation, Racz has published many translations from Spanish, mostly of poetic works and verse drama.  He has contributed poetry translations to The XUL Reader:  An Anthology of Argentine Poetry 1980-1996 (ROOF BOOKS, 1997), José Lezama Lima:  Selections (U of California P, 2005), and The Oxford Book of Latin American Poetry:  A Bilingual Anthology (Oxford UP, 2009), among other collections. 
Two volumes of Racz's translations of Eduardo Chirinos appeared in 2011, Reasons for Writing Poetry (Salt Publishing) and Written in Missoula (U of Montana P), while The Smoke of Distant Fires appeared in 2012 (Open Letter Books), and While the Wolf Is Around appeared from Diálogos in 2014.
Regarding works for the theater, Racz edited Three Comedies by Jaime Salom (UP of Colorado, 2004), in which his translation of the mock-Renaissance farce Rigmaroles appears.  His translations of the Golden Age dramatists Pedro Calderón de la Barca's Life Is a Dream and Lope de Vega's Fuenteovejuna were commissioned for the Norton Anthology of Drama (2009).  These two works were also published as stand-alone volumes, the former in the Penguin Classics series (2006) and the latter by Yale UP (2010).  Life Is a Dream has been staged by Long Island University—Brooklyn, A Festival of Fools, Brigham Young University—Idaho, Duke University, and Hampden-Sydney College.  Fuenteovejuna was performed by the M. F. A. program of Mary Baldwin College.  Racz's translation of Salom's Callas and Medea was commissioned and staged by the Thalia Spanish Theatre in New York City in 2013.
Racz has won the Luz Bilingual Publishing Poetry Translation Contest (1998), International Quarterly's Crossing Boundaries Award (2000), the American Translators Association's Alicia Gordon Award for Word Artistry in Translation (2010), and was the co-winner of the 2012 Willis Barnstone Translation Prize.  His translation of The Smoke of Distant Fires was shortlisted for the PEN Award for Poetry Translation in 2013.