Geoff Munsterman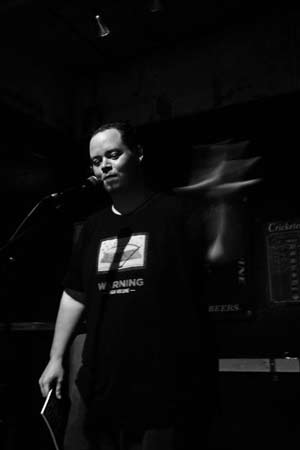 Geoff Munsterman hails from Plaquemines Parish, Louisiana. His father was a carpenter for Bill Ward and his mother worked for Pan American Life Insurance. His brother is a towboat captain for Turn Services, LLC in Reserve, LA.
Geoff's work has been published in The Double Dealer, story|south, Steel Toe Review, Margie, The Levee Review, The Raging Pelican, Poets for Living Waters, The Southern Poetry Anthology, Spillway Review, The New Laurel Review, and Solid Quarter.
His debut collection, Because the Stars Shine Through It, came out Fall 2013 from Lavender Ink in New Orleans. Poet John Kinsella says of the collection: "In Because the Stars Shine Through It, we have an original. Geoff Munsterman has lived and written his way, but always with the shadows, ghosts and energy of the place he comes from. In painting what can be a harsh truth, a strangely beautiful honesty emerges in which the coast, the river, the distance to Baton Rouge and back, and the horror of oil, meld with characters who live in their positives and negatives. Munsterman's complex picture of place is painted with precision and clarity."
He can often be found at Faulkner House Books recommending Tom Franklin novels to customers or hard at work writing his follow-up poems in the Bywater coffee shop and art gallery Flora's.
---
Excepts from an interview with Geoff Munsterman:
The dead aren't silent.  If they were, writing poetry would be much easier. 
The idea is to imagine ourselves dead in the act of composition, meaning that our works are read 'posthumously' and all reception towards our work is dead to us.  Something happens, we write about it, and by the time someone else reads it, it's already dead to us. Poets are ghosts, poems are our ectoplasm.
Keats' negative capability, Rimbaud's derangement of the senses, Lorca's duende, Eliot's clerk, Yeats' vision; we're all operating in these ideas of tradition. And these traditions haunt our present. Poets are patiently writing the same poem in different generations, but nothing is added or taken away. In the margins, there are hidden poems only we can see. It's been called the "anxiety of influence" but really all that means is that generationally we are either arguing or agreeing while adding to the poem.
That's the project, that's the work: conversations with the past, in the present, for the future.
Then poetry becomes a mighty river carrying traditions of the past from upriver to future traditions yet to be defined downriver with our little bend in that river is being shaped by all that comes before it and shaping all that comes after it.