Hank Lazer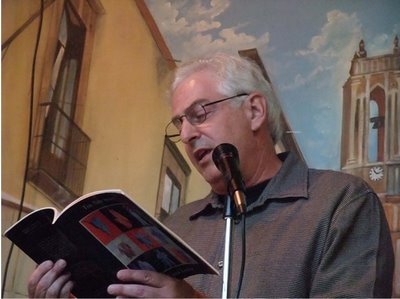 Hank Lazer has published thirty-two books of poetry, including Poems That Look Just Like Poems (2019, PURH, in English and in French), Slowly Becoming Awake (N32) (2019, Dos Madres Press), Brush Mind 2: Second Hand (2018, GreencupBooks),  Evidence of Being Here: Beginning in Havana (N27)  (2018, Negative Capability Press), Thinking in Jewish (N20) (2017, Lavender Ink), Poems Hidden in Plain View (2016, PURH, in English and in French), Brush Mind: At Hand (GreencupBooks, 2016), N24 (Little Red Leaves / Textile Series, 2014), N18 (complete) (Singing Horse Press, 2012), Portions (Lavender Ink, 2009), The New Spirit (Singing Horse, 2005), Elegies & Vacations (Salt, 2004), and Days (Lavender Ink, 2002).   Selected Poems and Essays of Hank Lazer, completed by a group of translators and with a Preface by Nie Zhenzao, was published by Central China Normal University Press in 2015.  Lazer's Selected Poems have also been published in Italy (Pensando Cantando: Poesie Scelte di Hank Lazer, QuiEdit, 2015, translated by Anny Ballardini).  In 2011, in collaboration with visual artists from the Taller Experimental de Gráfica in Havana and the University of Alabama's Book Arts program, Lazer published Indivisible, a fine press bilingual edition of handwritten shape poems.  Pages from the notebooks have been performed with soprano saxophonist Andrew Raffo Dewar, including performances at the University of Georgia (November 2013) and in Havana, Cuba (two concerts in January 2014), and with legendary Birmingham improvisational guitarist Davey Williams.  Video installations of the Brush Mind books have been shown in several galleries.  Lazer has collaborated and performed with multimedia artist Jane Cassidy, and musicians Holland Hopson, Andrew Raffo Dewar, Nathaniel Trost, Justin Greene, Trygve Seim, and the University of Alabama Chorus, seeking new ways and places to present poetry, from a local health food grocery to a hair salon (for an infamous Salon Salon), to more conventional concert venues.
In April 2015, Lazer was selected for the state of Alabama's highest literary award, the Harper Lee Award, for a lifetime of achievement in literature. 
Lazer is currently assembling a collection of essays, interviews, and conversations with the working title What Were You Thinking: Essays 2006-2020, which includes a long essay on "grace" which appears in Religion & Literature.  Lazer's previous books of criticism include Opposing Poetries (two volumes, 1996) and Lyric & Spirit: Selected Essays 1996-2008 (2008). 
Audio and video recordings of Lazer's poetry and an interview for Art International Radio can be found at Lazer's PennSound website , as well as in special issues of Plume #34, Talisman #42, and spacecraft #10.  YouTube (Hank Lazer) makes available recordings and performances from 2019; Vimeo has videos of both Brush Mind works.
With co-editor Charles Bernstein, Lazer edits the Modern and Contemporary Poetics Series for the University of Alabama Press.  To date, the MCP Series has published over 50 books, including work by Marjorie Perloff, Harryette Mullen, Jerome Rothenberg, Rachel Blau DuPlessis, and Norman Fischer.
In January 2014, Lazer retired from the University of Alabama (where he continues to teach innovative seminars on Zen Buddhism and Radical Approaches to the Arts for New College and the Blount Scholars Program) after 37 years in a variety of positions, including Associate Provost for Academic Affairs, Executive Director of Creative Campus, and Professor of English.  Lazer also convenes a weekly Zen meditation group, Quiet Tide Sangha, in Tuscaloosa. Lazer can be reached at hlazer@bama.ua.edu .
---
Links:
Recent Books
Brush Mind: At Hand (Greencup Books, 2016) 128 pages, hand-written, calligraphic book, poetry/philosophy; can be read in its entirety in 7 minutes (or longer). Inspired by the calligraphy work of Kazuaki Tanahashi (to whom the book is dedicated).
Poems Hidden in Plain View / Poèmes cachés en evidence (trans. by Emmanuel Moses), PURH (Presses universitaires de Rouen et du Havre), 2016. 160 pages. Drawn from the first ten Notebooks, in dialogue with Heidegger's Being & Time. With an afterword. In two volumes, one in English, one in French.
Thinking Singing: Selected Poems of Hank Lazer / Pensando Cantando: Poesie Scelte di Hank Lazer, trans. Anny Ballardini, Verona, Italy: QuiEdit, 2015, selected poems from Days (2002) to the Notebooks (through 2014), with Introduction and an Interview. 220 pages. Bilingual, English/Italian.
N24 Little Red Leaves: Textile Series, 2014. Hand-sewn, beautifully designed (Dawn Pendergast) chapbook. Shape-writing, handwritten book. 16 pages.
Special Features
Interview at spacecraft project.
Talisman #42: An interview with Hank Lazer conducted by Marjorie Perloff. 
Plume #34: Interview with Hank Lazer by Glenn Mott; includes several Notebook pages, photos and sound file from jazz-poetry improvisations with soprano saxophonist/composer Andrew Raffo Dewar.
Video
Reading & Conversation with Andrew Maxwell at the San Francisco Poetry Center, February 23, 2017
Bookmark TV interview with Don Noble (2015) for Alabama Public TV
7 recordings and videos from 2019 available on YouTube (Hank Lazer), including several pieces with Holland Hopson and a live performance in Florence, AL with Jake Berry, Wayne Sides, and Kate Hunt (on theremin!)
Vimeo – Brush Mind: At Hand and Brush Mind: Second Hand