Olivier Cadiot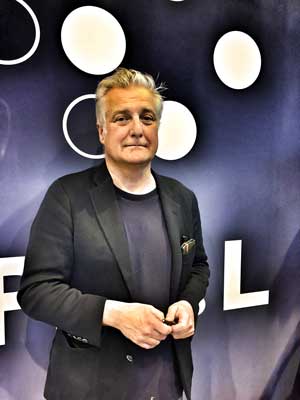 Olivier Cadiot is a poet, dramaturge, novelist, essayist, and translator—sometimes all at once. Born in Paris in 1956, Cadiot "has a rare combination of carnival and catastrophe, of verve, humor, innovation and provocation," according to Rosmarie Waldrop. His first work published by P.O.L in 1988, L'art poetic', surprised and impressed French critics and avant-garde poets. Based on a cut-up of 100-year old grammar books, the resulting repetition of a minimal vocabulary enables endless possible readings.
Cadiot has gone on to publish 13 other works with P.O.L—"works" because Cadiot blurs the boundaries between verse and prose, poetry and fiction. In fact, he views prose as a kind of "ambulance service" or "foster home" for poetry. With the publication of Futur, ancien, fugitif in 1993, Cadiot moved into longer pieces that felt like novels—sort of. As Waldrop writes, Futur, ancien, fugitif "contains a complete list of what to do in case of exile, a memento on table manners, a method of dialogue in one voice." A Robinson Crusoe character emerges in this book—a loner, an inventor, a poet—who reappears in nearly all Cadiot's subsequent books. Futur, ancien, fugitif was translated as Future, Former, Fugitive by Cole Swensen (Roof Books, 2003), who also translated L'art poetic' (Art poetic', Green Integer, 1999) and Le Colonel des Zouaves (Colonel Zoo, Green Integer, 2006).
Cadiot gave a full reading of his Retour définitif et durable de l'être aimé (2002) at the Théâtre nationale de la colline in Paris in 2002. But his ties to the theater in France date back to 1989, when he collaborated with Pascal Dusapin on the opera libretto for Roméo & Juliette. Several of his works have been adapted for the stage by Ludovic Lagarde, including Le Colonel des Zouaves and Fairy queen, which was also adapted for television in 2007. Cadiot has written specifically for the theater, including Sœurs et frères, L'Anacoluthe, and Happy Birthday to you. In 2010, he was one of the artists-in-residence at the Avignon theater festival, where he again collaborated with Lagarde on the stage production of Un mage en été. The book form of this fiction monologue was in its final stages when the production was performed and the two versions mutually influenced one another. The English translation of the book, A Mage in Summer, is currently in press with Lavender Ink / Diálogos.
Cadiot has been strongly influenced by the 20th-century avant-garde, including Gertrude Stein, James Joyce, and William Burroughs. Not surprisingly, then, his writing is marked by constant formal innovations such as cut-up, break-down, and simultaneities. His meeting with Burroughs is one of the starting points of his Providence (2015). In interviews, he has also referred to Roland Barthes's seminar Comment vivre ensemble and Stéphane Mallarmé's Le Tombeau d'Anatole.
In addition to Swensen's translations, Cadiot collaborated with Charles Bernstein on the translation/adaptation of his early Rouge, vert & noir (Red, Green & Black, Potes & Poets Press, 1990). Cadiot himself has translated Stein, the German writer Rainald Goetz, and Shakespeare. The staging of his 2018 translation of Twelfth Night, by Thomas Ostermeier for the Comédie française, sold out months in advance. Cadiot also participated in the 2001 Bayard Bible, translated in pairs by various contemporary writers and biblical scholars. Cadiot worked with three different scholars to translate Psalms, Song of Songs, and Hosea.
In addition to his many literary and theatrical collaborations, Cadiot has worked with a number of musicians, including Georges Aperghis, Gilles Grand, and the pianist Benoît Delbecq. He did the sampling and mixing for three albums produced with the rock guitarist and singer Rodolphe Burger, including Hôtel Robinson (2002).