Owen Hill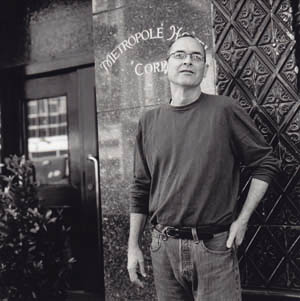 Owen Hill is the author of two published novels, The Chandler Apartments (Creative Arts), and The Incredible Double (PM Press), a volume of short stories, Loose Ends (Thumbscrew Press), and a large body of chapbooks, broadsides and other fugitive publications. In the 80's and early nineties he edited the literary magazine Blind Date. He lives in Berkeley and is employed as a buyer at Moe's Books.
---
Novels
Short Fiction
Loose Ends
Union Stewart
Poetry
Smile (Words & Picures)
Menage a Trois (Norton Coker)
Quasi Erotic Poems (Norton Coker)
Migraine Auras (Gas Editions)
From Rolling Rock, Out (Angry Dog Midget Editons)
Songs (G.E. Collective)
Against the Weather (Blue Press)
Recent Additions
1

Daewoo
2

A Child of Many Waters
3

Sky Chess
4

EMERGENCY!
5

Heavenly Muse: Essays on Poetry
6

Voice & Shadow: New & Selected Poems
7

The Albatross Around the Neck of Albert Ross
8

A Mage in Summer
9

Sleepwalkers on a Picnic
10

Harrison's Word
11

Perishable Poems
12

Stone & Type, Cedar