Ralph Adamo
Career Narrative for Ralph Adamo
Submitted to The Guggenheim Foundation as part of an application for a 2013 Fellowship in Writing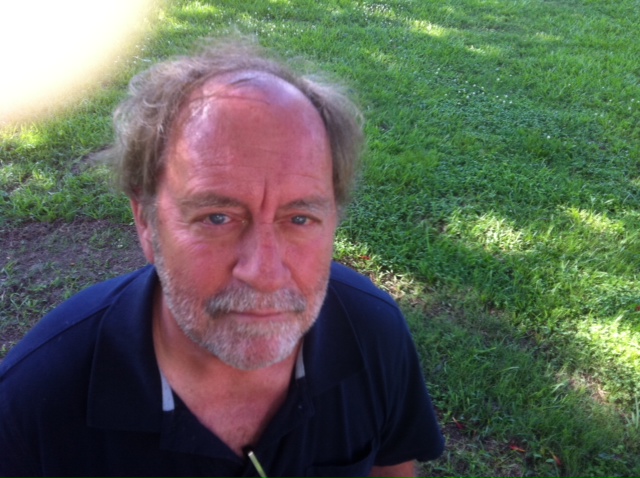 Let me preface this brief personal narrative with a note on what has been the primary occupation of my life, through what seems like a flood of distractions and periods of misdirection (most of which were necessitated by financial exigency, like eating and paying the rent). The through-line for me — aesthetically, emotionally, intellectually – has been poetry. The action and identity of writing poetry, growing in skill and understanding of this craft, has been the single consistent thread throughout all of my changes and diverse activities. What I have written, the way I compose, and what I think about the activity of writing poetry has gone through considerable change over time, since I published my first poems. Some of the changes have been radical and disorienting, the occasions of doubt and soul-searching, but I feel more secure in my abilities and my consciousness of what poetry can be and do than ever before. In my twenties and into my thirties, I put poetry ahead of all other considerations – employment, health, stability.  As happy as I am now with intractable responsibilities and almost total commitments of time, I sometimes long for the opportunity to devote myself unstintingly to my poetry again; thus I apply for this opportunity.
I was born, raised and educated in New Orleans, one of four children in a middle-middle class household. High school gave me a taste for both journalism and poetry, at the same time Louisiana gave me an interest in politics and music, four passions that continue to dominate my thinking. Raised Catholic but long a Walker Percy-style 'lapsed Catholic,' I can look to that powerful antique ethos as another factor that informs my life. My younger sister, Mary, who died recently, was, as we say now, a 'Downs,' but one who lived what appeared to be a happy life. My oldest brother, struck by an unmanageable fever at three years of age, remains a brain-damaged aphasic even now in his seventies, and his experience, his life is at the center of the writing I plan to do with this grant.(A grant I did not get.) My brother Martin spent much of his career as a teacher in various public schools. My father had migrated from Brooklyn to New Orleans in the late '30s, enlisted and fought in the Battle of the Bulge, spent most of his subsequent working life as a salesman with territory covering much of Louisiana and Mississippi. My mother, raised in Laurel, Mississippi, where Catholics like her were only a little more welcome the African Americans, went to work in middle age at the special school, St. Michaels, where Mary was a student for most of her life.
I edited both high school and college literary magazines; I participated actively in the great political movements of my youth, for civil rights and against the war. I have traveled little, but recognized each time I did the amazing power of distance and change to energize my thought and writing.
Except for the four years I spent in Fayetteville, Arkansas, in the U of A's MFA program, I have lived my life in New Orleans, for better or – easier to see – worse. Fayetteville introduced me not only to small town life, but to a number of extraordinary writers who became and remain friends.
When one of them, Frank Stanford (together with C.D Wright), offered to publish my first book of poems, Sadness at the Private University, in 1977, he was seeking to further his own vision of a small, independent poetry press. I was both pleased to have Frank want my work as Lost Roads Publisher's third book, and dubious about whether the path of the small press would lead me anywhere. Frank reassured me by saying at least small press books stay in print. Indeed, you can still buy a new copy of mine from among the 500 copies printed for the original cover price of $3. My regrets, if any, about being a poet with a small press, were obviously not strong enough to keep me from giving my second book (The End of the World) to Lost Roads after Frank's death and my third (Hanoi Rose), ten years later to New Orleans Poetry Journal Press, which had been an early publisher of James Wright as well as Vassar Miller and Everette Maddox. When I looked around another ten or so years later for a press to publish a 30-year volume of new and selected poems (called Waterblind), I chose Portals Press in 2002, a small press with many good poets and, typical of small presses, little distribution plan. Thus I remain pretty obscure for a poet who first published professionally in 1968, and had early work included in a Random House anthology of the early 1970s called Contemporary Poetry in America. I have won a few awards along to way, including an NEA Fellowship in 2003 (http://www.nea.gov/features/Writers/adamo.html), a Louisiana Endowment for the Arts individual writer's grant (1998), and the first Marble Faun Award given by the Pirates' Alley/Faulkner Society (1997). In 1997 I also had the good fortune to spend a month residency at YADDO, there finishing work on a book-length poem (then called The Bicameralization, now retitled New Orleans Elegies.) My work also appears in some other anthologies, among them The Made Thing: An Anthology of Contemporary Southern Poetry (U. of Arkansas Press), American Diaspora: The Poetry of Exile (U. of Iowa Press), and Another South (U. of Alabama Press), as well as LSU Press's Something in Common. In addition to essays on the poetry of both Frank Stanford and Everette Maddox, I contributed a chapter about his poetry to the critical study John William Corrington, Southern Man of Letters.
As a worker, I avoided university teaching for fifteen years following my MFA degree in 1974, first bumming around New Orleans as a poorly skilled renovation carpenter. Then, after a year of working as an oral historian in the William Ransom Hogan Archive of New Orleans Jazz, I began another job teaching poetry writing under CETA (Jimmy Carter's Comprehensive Employment Training Act, his attempt to recreate some of the old WPA magic), bringing the craft into nutrition sites and nursing homes in New Orleans. One result was an anthology of the work generated by the students, which I edited under the title Big Easy. Also during the mid-70s, I became one of the founding editors of Barataria, a short-lived but pretty interesting independent literary magazine (among my fellow editors were Louis Gallo and Ellen Gilchrist).
I spent another year writing for network television ("Search for Tomorrow," "Texas"), under the sponsorship of my old teacher, Bill Corrington, and then began almost a decade of newspaper work in the '80s (first as a music columnist, then an investigative reporter) for an alternative weekly newspaper in the city, also doing a bit of free-lance writing for other publications. I won a few awards during those years, some from the New Orleans Press Association (for example, one for general news reporting for stories on the impact of various tax proposals, one for a news-opinion column on the implications of a chemical freight derailment in a local train yard); I also won an award from the Women Business Owners Association for an investigative piece on government contracts and woman & minority owned businesses. Another Press Association award came for writing, producing and narrating a documentary on the New Orleans antique business for our local PBS affiliate. I also became a guest commentator on that affiliate's news roundtable program Informed Sources during the 80s and 90s, and was a regular book reviewer on the same station's weekly arts roundtable program, as well as for our daily newspaper, The Times Picayune.
Beginning in the late 1980s, I returned to the Academy, teaching (journalism and creative writing) at the University of New Orleans for five years. There I also advised the weekly student newspaper, eventually running afoul of UNO's chancellor for refusing to censor the students' investigative efforts. (They were investigating him.) After that I taught creative writing and editing at Loyola University, where I was also editor of the literary journal New Orleans Review (NOR), for the next five years, spending one semester of that time at Tulane University as Visiting Professor of Creative Writing. I began the new century teaching at LSU for four years, until Katrina struck New Orleans. During that time, I also taught creative writing in a New Orleans public school (NOCCA Academy). Teaching turned out to be something else I could be passionate about, and I have worked hard to teach in a way that leaves residual skills and hungers in my students' lives. Another source of pride and satisfaction from that period are the twenty  or so volumes of NOR I edited, among them special issues on experimental writing in the south, on New Orleans poets, also a retrospective issue on Everette Maddox, as well as a lot of discovery of new voices, many of whom are by now launched as significant, successful writers. In my current position, new since 2007, at Xavier University, I also have the privilege of editing a literary magazine, Xavier Review, and I have derived great satisfaction from making each issue count. At Xavier, I have finally arrived at a university that appears to want to live up to the humane language of its own mission statement, for which I am grateful.
Following Katrina, which took away my employment and drowned most remaining copies of my selected volume, Waterblind: New and Selected Poems (Portals Press 2002), I returned to journalism for a year (winning a Katrina Media Fellowship from the Open Society Institute to help me do that), writing extensively about the problems in public education in my hometown. (Some of that work appeared in Dissent Magazine and in The American Prospect, and can be found at http://www.soros.org/katrina.)
---
Links
Ralph's page at Xavier University.