Tchicaya U Tam'si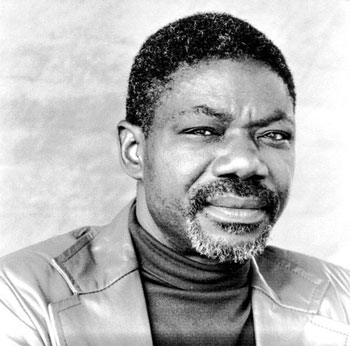 Tchicaya U Tam'si was born Gérald-Félix Tchicaya in Mpili (near Brazzaville, French Equitorial Africa, now the Republic of Congo) in 1931. He was the son of Jean-Félix Tchicaya, who represented Equatorial Africa in the French parliament from 1944 to 1958. Assumed in the family to be headed to a career in politics, he left school before graduating to devote himself to writing, publishing his first book (Le Mauvais sang, inspired by Rimbaud), at age 24, and was immediately hailed as one of the great African voices of his generation. In 1957 he took the pseudonym of U Tam'si (which means, in Vili, "one who speaks for his country").
In 1960 he returned from France to support the great Congolese statesman and fighter for independence, Patrice Lumumba, who rose on a wave of hopeful nationalism to be Congo's first Prime Minister but served only two months before being assassinated, becoming a martyr and symbol for anti-colonialism throughout Africa. In 1964 Tchicaya released Le Ventre (The Belly) as a song of mourning for the fallen leader.
After a prolific middle and old age, Tchicaya died in Bazancourt in 1988 at the age of 56. In 1989, the Tchicaya U Tam'si Prize for African Poetry was established in his honor.
U Tam'si published six collections of poetry during his lifetime: Le mauvais sang (1955), Feu de brousse (1957), À triche-coeur (1958), Epitomé (1962), Le Ventre (1964), and L'arc Musical (1970). Epitomé was awarded the 1966 Poetry Prize at the World Festival for Negro Arts. U Tam'si also wrote the play Le Zulu (1977) and edited the anthology La veste d'intérieur (1977).
 
Other translations of U Tam'si's poetry into English include Brush Fire (1964, translated by Sangadore Akanji) and Selected Poems (1970, translated by Gerald Moore). Selections of his poems appear in the Penguin Book of Modern African Poetry (1999) and in The Negritude Poets: An Anthology of Translations from the French (1989).