Vincent A. Cellucci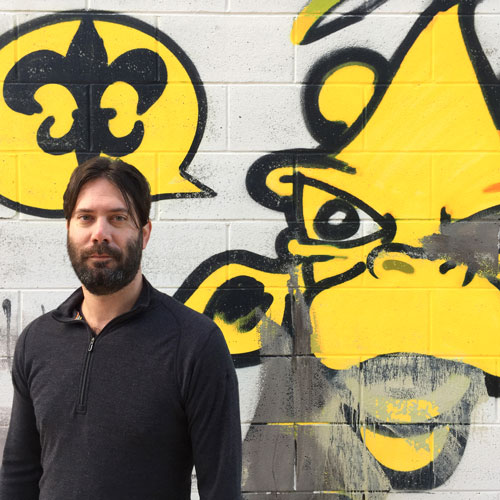 Vincent A. Cellucci is the author of An Easy Place / To Die (CityLit Press, 2011) and editor of Fuck Poems: An Exceptional Anthology (Lavender Ink, 2012). come back river (Finishing Line Press, 2014) is a bilingual Bengali-English translation chapbook with the poet and artist Debangana Banerjee. _a ship on the line (Unlikely Books, 2014), a battleship-collaboration with poet Christopher Shipman, was a finalist for the Eric Hoffer Award. His Diamonds in Dystopia, an interactive poetry experience, was anthologized in Best American Experimental Writing 2018. He teaches communication and digital media in the College of Art & Design at Louisiana State University.
Vincent received his MFA from Louisiana State University and he attended Loyola University New Orleans to earn his Bachelor's degree in English Writing with a background in studio arts by cross-enrolling at Tulane University. In 2010, he collaborated with the Louisiana Division of the Arts to develop and host several Artist Communication Workshops.
A few of his publications include poems, translations, and reviews in Best American Experimental Writing, The Berkeley Poetry Review, Exquisite Corpse, International Poetry Review, New Delta Review, New Orleans Review, Xavier Review, moria, The Pedestal, So and So Mag, TENDER_LOIN, and Toad Suck Review. An Easy Place / To Die was his first book of poetry. Cellucci contributed, edited, and produced a collaborative (including Andrei Codrescu) audio novel, The Katrina Decameron, which was released on iTunes in late  2010, and he is the founder of River Writers, a downtown Baton Rouge (pop up) reading series. 
Cellucci is currently collaborating with faculty to design interactive poetry web applications, leading to performances of Diamonds in Dystopia for TEDxLSU, the international conference for New Interfaces for Musical Expression hosted in Australia, and South By Southwest (SXSW). He is currently pursing his doctorate of design in cultural preservation and exploring the interstices of poetry, interactive media, VR, and digital fabrication.
---