Youssouf Amine Elalamy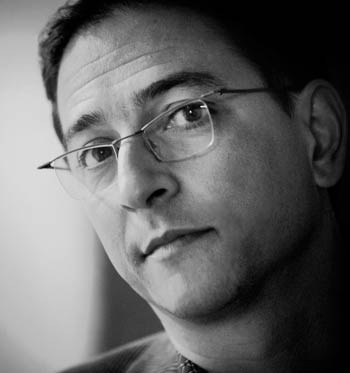 Born in Morocco (Larache) on the 20th of November 1961, professor (PhD), writer and visual artist Youssouf Amine Elalamy is the author of 7 books, 5 of which are novels. His books have been translated into several languages including English, Spanish, German, Dutch and Greek. They include:
Un Marocain à New York (Eddif, 1998),
Les clandestins, Grand Atlas Prize 2001 and "Le Plaisir de Lire" Mediterranean Prize winner 2010 (Eddif, 2000/Au Diable Vauvert, 2001),
Paris mon bled (Eddif 2002)
Miniatures (Hors Champs, 2004)
Tqarqib Ennab (Gossip) (Khbar Bladna, 2006)
Oussama mon amour (La Croisée des Chemins, 2011).   
Amour nomade (La Croisée des Chemins, 2013).     
Nomad Love has been "displayed" as an urban installation in Rotterdam, Rabat, Copenhagen and Cologne.   In September 2003, he published The Journal of YAE (édition Hors'champs, Bordeau, France), a collection of articles inspired by the terrorist attacks of Casablanca (16 May, 2003).
While he writes in French, Elalamy's books have been translated into Arabic, English, Spanish, German, Dutch and Greek. Two of his works, A Moroccan in New York and Sea Drinkers have been published in the US in a single volume under the title Two Novellas by YAE (Lexington Books, Nov. 2008). Some of his works have been adapted for stage (Tqarqib Ennab). His book Miniatures has also given birth to an art exhibit at the Villa des Arts (Casablanca) in February 2005, and other art galleries in Rabat, Fes, Marrakech, Oujda and Kenitra (Morocco). Elalamy's art exhibit "Miniatures 2" was held in January 2007 at the Free Academy of Visual Arts in The Hague, Holland, and in June 2007 at the De Levante Art Gallery in Amsterdam. His collection of short stories, Gossip (2006), is the first book entirely written in Darija (Moroccan Arabic).
Youssouf Amine Elalamy lives in Rabat and, since 1985, is a full professor at Ibn Tofaïl University in Kenitra, Morocco, where he teaches Stylistics, Art, Communication and Media Studies. He has a Ph.D in Communication. In 1991, he is awarded a Fulbright scholarship to study commercial culture. Affiliated with N.Y.U. (The New York Institute for the humanities), he also follows courses on advertising copywriting and advertising layout techniques at the F.I.T. and the Parsons School of Design. After 3 years of studies in New York, he returned to live in Rabat and published A Moroccan in New York.
Elalamy is the winner of the "Grand Atlas" literature Prize 2001 and "Le Plaisir de lire" Prize 2010 for his novel Les Clandestins (translated into 6  languages). He is also the winner of the first edition of the British Council literature Prize held in 1999 and is the current president of Moroccan PEN.
Links:
Article on YAE at quantara.de