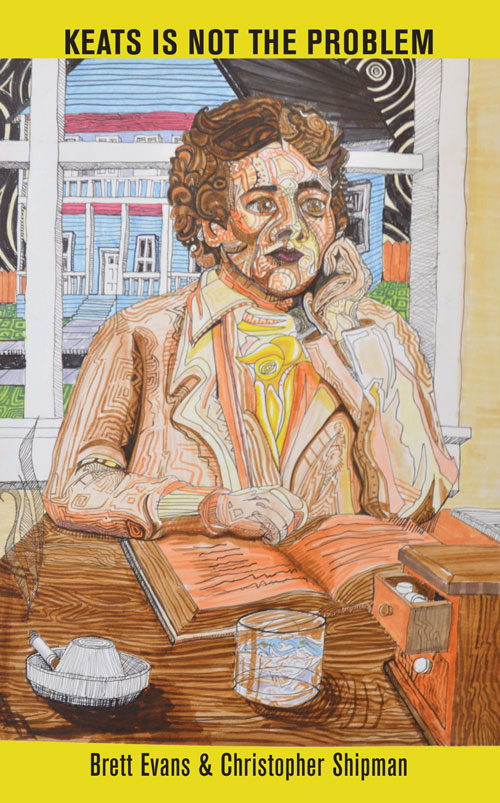 Next Thursday, February 22, the eve of the anniversary of the death of John Keats, will mark the launch of Keats Is Not the Problem, a collaborative poem by Chris Shipman and Brett Evans, at the famous Dogfish Reading Series. Even if you have to fly in from New York or California or Uruguay, you should plan on attending this event, which promises to be as much a party as a reading, with refreshments to make "The Eve of St. Agnes" seem Wordsworthian by comparison. Rodger Kamenetz says of this book: "EvansShipman have merged to form a durable romantic monster with one big clear voice, scarifying at times as poetic monsters should be, but also amiable amidst the ruins of New Orleans." Come merge with the monster and celebrate with us.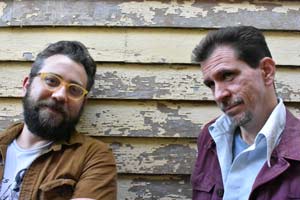 In honor of this auspicious event, we offer a little taste of the book below. You can also listen to EvansShipman reading from the book and talking to yours truly about it on The Writer's Retreat at WRBH. 
If you can't make it to the launch, pick up a copy of the book from our website for half price, today only.
---
Two from Keats Is Not the Problem
---
Aging in America (When the Music's Not Quite Over)
It's weird to think
    some people got 
     old and died
before the apocalypse hit
Who Killed the World?
on the celestial seasonings
 tea flap, beer bib
and what about geriatric
   roaches who just age out
of scurrying living
and flaming hot Funyons
 besting nuclear winters
 hearts on the fire
like terminal marshmallows.
psst— Spring is about youthiness
                            and bed springs
but once I read with the poet
 Stephen Rodefer
at the 13 Bar in New York,
   he among younger poets
  reading about sorrows of the flesh
even though we poets are supposed
    to be like opera singers time-
  wise, relative to peak.
Aging in America is one thing
Dying in Paris is another
so Andy, yeah—
being young 
   shucked smushed upright
    in a Pittsburgh flat just might 
be roundly where it's at
or just flying a kite on a field
    before they invented
   all this shit that killed us
---
platform kids
huff glue
outside the movies
looney tunes glue
until shut-eye
pacifier rags
there are no pacifiers
atoms for peace
who made this place
this place?
wake up
wipe the glue crust
from corner mouth
start all over again
make the sale
be your own
runaway
in place
stuck
Read More