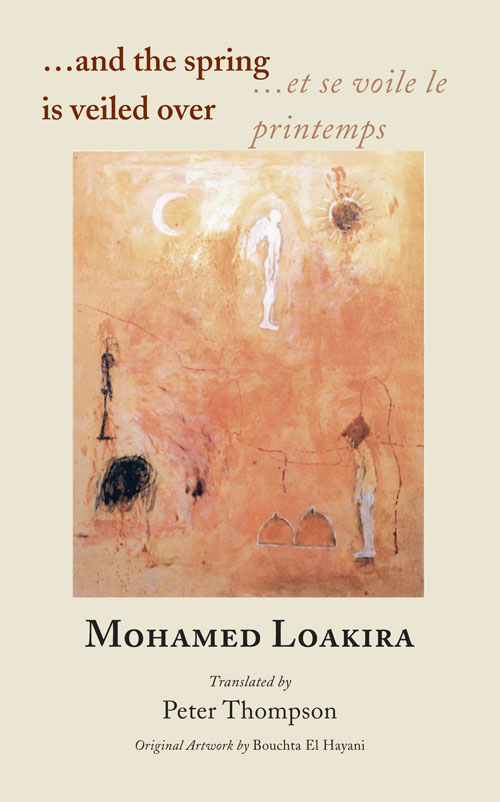 In one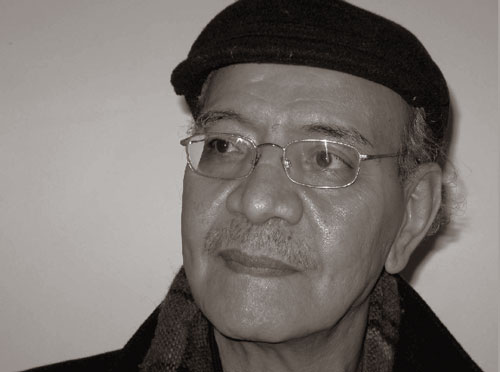 of his earliest publications Mohamed Loakira wrote: "The founding space of [my] predilection for writing was, without question, the Jamaa el Fna in Marrakech. This is where, as a child, I learned not to dissociate the voices, rhythms, colors, smells of country cuisine." Those who have visited the Fna (main square) and souks of Marrakech can attest to the social intensity of the experience. The crush of food and textile vendors hawking their wares in Arabic, French and Spanish, snake charmers and tattoo artists (I was naive tourist enough to have a henna pattern applied to my bald head) is a feast of sensations, which might help to explain Loakira's desire to "decompartmentalise modes of writing, seeking fusion, cohabitation and dialogue between the various forms of expression, including my poetry, Moroccan painting, music and the aesthetics of silence." And one might add politics to these modes of writing, as Loakira has always been active in post-colonial politics in both Morocco and France.
Among Loakira's numerous books of poetry and novels, Diálogos is proud to be the first to bring a complete volume of his poems into English with publication of Peter Thompson's translation of …and the spring is veiled over (…et se voile le printemps). The Spring of the title is, at one level, the wave of demonstrations and revolts that swept North Africa and the Middle East in 2010 that came to be called Arab Spring, and the book is both a celebration of the revolutionary spirit and hope that swept the region for that brief moment and a lament for its ultimate failure.
Could this be dawn's birth, a cloud-piercing,
tinted by flashes at the wide transoms.
A dream of what's possible, so it seems, set free
and a route reshaped for sharing?
… 
[or]
Might it be bitter miscarriage,
insomnia's rough-draft
or simply more of current events? (25)
The book pivots on actual or implied or's, as the alternative conjunction infects every poem like the turn of an English sonnet.
Today we present one of the poems (untitled, pages 52-3 in the text) read in both English and French by Peter Thompson. And, today only, we are offering the book at half price.
---
from …and the spring is veiled over (53)
http://www.lavenderink.org/sound/loakira53-pt-en.mp3
Or am I forced to endow excess,
assassinate my hopes' dream of rebirth,
strangling the future with both hands…
Or bend my back under the glosses of preachers
and other exegetes
mutter only in my own silence
while blood flows from the eyes of the partisan dreamer…
Or await in my retiring
the echo of the explosion
and powder the bloodletting with salt that has lost its savor.
There is only unlawful taking, flagellations, amputations,
abductions, ransoms,
devastation, blood and fire.
And may the litany of heresies drone on!
---
from …et se voile le printemps (52)
http://www.lavenderink.org/sound/loakira53-pt-fr.mp3
Ou serais-je contraint à fonder l'outrance,
assassiner le rêve de renaître de mes espérances,
étreignant le futur à mains jointes ...
Ou arrondir le dos sous les gloses des prédicateurs
et autres exégètes
jusqu'à mâchonner le silence
alors que le sang coule des yeux du rêveur partageur ...
Ou attendre dans ma retraite
l'écho de la déflagration
et saupoudrer les saignées de sel affadi.
Il n'est que dépossessions, flagellations, amputations,
rapts, rançons,
que ravage, feu et sang.
Et que s'allonge la liste des hérésies!
Read More