Description
I Got the Dog: A Memoir of Rising
240 Pages / Memoir
978-1944884833 (cloth, $29.95)
978-1944884819 (pbk. $19.95) 
978-1944884840 (ebook $9.99)
September 15, 2020
---
I Got the Dog has teeth. Amanda Boyden's memoir is unflinching, poignant, raw, sometimes hilarious, sometimes brutally painful—the self-portrait of a woman unafraid to scream into the universe: I survived this! And this. And this. Follow my lead. 
Dog tails Boyden from childhood in Chicago to adult heartbreak, from a devastating rape as a young woman, reexamined and illumined by distance, to the crushing end of her marriage to a famous Canadian author, destroyed by infidelity and another woman's pregnancy.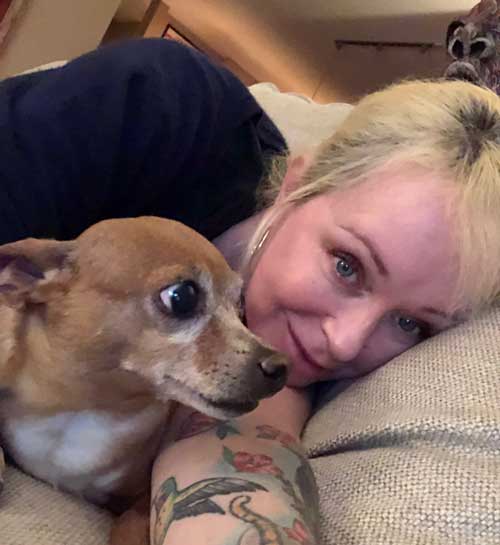 Boyden hasn't just survived, though. She chooses to rise. She gets up from the pavement and dusts herself off. She stands and says: You, too, can do this. This memoir finds joy in the details, courage in family, beauty in the natural world, and salvation in a little chihuahua who hangs in there through thick and thin.
---
Amanda Boyden is the author of two novels, Pretty Little Dirty and the international bestseller Babylon Rolling. Her short fiction and nonfiction have appeared in Maclean's, Globe and Mail, Third Coast, Mid-American Review, Sonora Review, and others. The recipient of Nerve.com's Henry Miller Award for Best Literary Sex Scene in Pretty Little Dirty, she lives in New Orleans with her rescue chihuahua, Fry.
---
Read the article in the National Post: "Rape, infidelity and the detonation of a marriage: Novelist Amanda Boyden's tumultuous life has led to new memoir"
---
Praise for I Got the Dog and Amanda Boyden
for I Got the Dog
In the wake of a betrayal by the love of her life, Boyden must find the strength to rebuild a life in ruins. I Got the Dog is a luminous memoir written in stunning prose about the power of perspective and the reclamation of self-love. By turns, joyous and gutting, this is a book that begs to be read and reread.
—Maurice Carlos Ruffin, author of We Cast a Shadow
Amanda Boyden's memoir is astonishing. Boyden pulls off a full-blown literary miracle with the chapter "Then. With Notes.". Her most painful memory is expressed in a ground-breaking style, that sets two recollections of it side-by-side, revealing how a brutal assault can resonate to this day. Boyden also traces the implosion of her marriage to a Canadian literary superstar and winner of the Giller Prize. These are merely two threads in an even-handed, marvelously detailed, and deeply-felt story we all recognize—and recognize in ourselves. We bend. We mend. We Rise.
—Honor Molloy, author of Smarty Girl: Dublin Savage
Amanda Boyden's I Got the Dog is a curious, fascinating memoir, at times magical, at times mystical, and always rendered in vibrant, seductive prose. Life has a way of offering unexpected turns of fate, some of them entirely unwelcome, and Boyden doesn't shrink from her own jolts and tremors. In the end, though, with humor, compassion, and raw honesty, she leads us to a place of beauty and redemption.
—Dinty W. Moore, author of The Accidental Buddhist
This searingly honest memoir is a rare thing, offering brilliant writing and integrity without compromising entertainment value: I was held from the first page. I Got the Dog is about love, hope and human resilience—a book for our times.
—Kate Kerrigan, author Ellis Island
A memoir of survival, bold and gorgeous in its telling—I Got the Dog fearlessly excavates the towering figures of Amanda Boyden's past and the shadows they cast, while allowing the writer to step into the light and reclaim a brilliance all her own.
—Sonja Livingston, author of Ghostbread
Amanda Boyden's I Got the Dog is a thrilling ride with one of the most original writers working today. Boyden navigates through our current crazy COVID-19 infected world without ever losing her humanity and grace, and flashes back to the floods of Hurricane Katrina. While death, illness, freak accidents, and heartbreak all occur, we sense she is the ultimate survivor, and can help us persevere as well. I loved her kindness to her parents and, of course Fry, the dog of the title.  Every sentence sparks with original synapses. I think she's a genius!
—Laura Shaine Cunningham, author of the memoirs Sleeping Arrangements and A Place in the Country
In I Got The Dog Amanda Boyden tackles the unwieldy suitcase of her life, unpacks it bruise by bruise, with such a deft hand, that you will be startled to realize how much of it you are carrying with you as you close the last page of this wonderful book.
—Colin Broderick, author of Orangutan, editor of The Writing Irish of New York
For its readers, one of the great pleasures of Amanda Boyden's memoir is being in the company of a writer who uses language with such assurance and grace. Another is the narrator's ability to take the reader into the most elusive and solitary moments of her life as well as the more publicly defining ones. But in the end what I found most remarkable is this memoir's generosity in regard to every person who appears in its pages. Never dismissive, the narrator is deeply attentive to each of the figures who come and go from her life. In the end, the world she observes so closely opens to a life of wonderment and joy.
—Kathleen Hill, author of She Read to Us in the Late Afternoons: A Life in Novels
Amanda Boyden, ninja warrior, dares others to read I Got the Dog and hear her say, "I want to love you, and I want you to love me back. Here I am, vulnerable, naked, writing. I am not afraid to tell my story and lay myself bare to the world." And I say, bravo. Boyden gives other women permission to open up and tell their own stories, to unleash themselves, in the pursuit of their own freedom from the bondage of secrecy. This is a life-changing book. I know, because it has changed mine.
—Louise Post, singer-songwriter producer
for Pretty Little Dirty
Glorious, modern, satirical and funny… Utterly realistic, compelling, artfully done, and also relevant… A first novel of complex truth and beauty.
San Francisco Chronicle
This story about the symbiotic relationship of two girls growing up in 1970s Kansas City and the airtight magical bubble they live in is a marvel (as in, 'I can't believe someone so wholly captured the intensity on paper').
Jane
Gripping… A brutally real reminder of the awesome power, and responsibility, of being a best friend.
Life Magazine
The novel builds up a rhythm so hypnotic and alluring that to stop reading is a struggle… Boyden marvelously captures the wonder, terror and excitement of first experiences.
Philadelphia Weekly 
for Babylon Rolling
Once in a great while, a novel comes along that makes you sit up and look around at your world and see it anew, in all its richness and complexity… A brilliant, nuanced portrait of pre-Katrina New Orleans.
The Times-Picayune 
[Pretty Little Dirty] hinted at the author's literary promise. With Babylon Rolling, that promise is fulfilled.
St. Louis Post-Dispatch 
Few contemporary novels are, at their root, as compelling about the relationship between a city and the people who live there. Boyden's Babylon Rolling is a love letter, sometimes sad, sometimes angry, sometimes beautiful, between New Orleans and five people who live on one of its streets.
The Globe and Mail (Toronto) 
Complex and compelling… Boyden has so fully and generously imagined Orchid Street and its inhabitants. Her writing acknowledges the depth of race and class divisions… but she's also aware of the ways people break out of their assigned roles.
San Francisco Chronicle 
Big and rich… One of those books you want to share.
The Palm Beach Post
It is possible that New Orleans is the perfect setting for the post 9/11 American novel… Like the characters in the gorgeous and tactile Babylon Rolling, our survival hinges on our ability to cope with the lack of a universal culture and common body politic, the truth that natural disasters and random violence are a fact of life.
Mother Jones
The deft character work in Babylon Rolling is more than up to the task… Sure-footed.
The Onion's A.V. Club 
Babylon Rolling takes place during the year leading up to Katrina, ending just before the devastation starts. The reader knows what's coming, even if Boyden's sprawling cast of characters does not, adding an underlying sense of dramatic irony to the novel.
The Toronto Star 
Explores the fissures of class and race on a street where America's diversity is writ small… She orchestrates the voices of her characters like a composer, well attuned to the varieties of human speech.
Chicago Tribune
Boyden makes it sing… The five story lines build into a terrifically vivid portrait of a city and its people.
San Francisco Chronicle
Boyden has written a heartwreck of a novel, a luminous swan song for a time and a place.
St. Louis Post-Dispatch 
Set in the chaotic months surrounding a treacherous hurricane, Boyden's second novel is an adroit, compulsively readable study of a city and the shared humanity that unites its diverse inhabitants.
Four out of four stars, People Magazine