Description
Edited by Nancy Dixon
ISBN: 978-1-935084-52-5
7″x10″, 560 pages: $29.95
December, 2013
---
N.O. Lit: 200 Years of New Orleans Literature is, quite simply, the most comprehensive collection of the literature of New Orleans ever. Designed as an introduction for scholars and a pleasure for everyone, this volume will set the standard for years to come.
Writers from around the world have long been drawn to New Orleans, but not until N.O. Lit: 200 Years of New Orleans Literature, edited by Nancy Dixon, has their work been collected in a single volume. Dixon has gathered some of the most prominent writers long associated with New Orleans, like Lafcadio Hearn, Tennessee Williams, Truman Capote, and Eudora Welty, but perhaps more fascinating are the ones we can discover for the first time, like the writers of Les Cenelles, French Creoles of color who published the first anthology of African American literature in 1845, or Los Isleños, descendents of the 17th-century Spanish immigrants from the Canary Islands, still a close-knit community today. From the first play ever performed in New Orleans in 1809, through Tom Dent's compelling 1967 drama of violence in the streets, Ritual Murder, this collection traces the city's history through its authors.
---
Listen to Nancy Dixon talk about N.O. Lit on The Reading Life, with Susan Larson.
Jeanie Reiss interview in Gambit.
C.W. Cannon interview at NOLAVie
---
I've  been waiting for this book a long time because it's the first resource to bring together in a single volume the chronological and stylistic range of two centuries of New Orleans literature.  The editor's introduction is also an excellent invitation into the corpus of New Orleans literature as it pertains to a prevailing sense of the city today—to itself, to America, and the world. This will undoubtedly become the standard text for introductory courses in New Orleans literature, a field which no one has done more to define, shape, and promote than Nancy Dixon.
—C.W. Cannon, Loyola University New Orleans, author of Soul Resin and French Quarter Beautification Project.
Louisianians, and particularly New Orleanians, do tend to go on and on about the literary heritage of this deepest South of Deep South pieces of turf. And it is with justification, of course. In the past, however, books about said literary heritage have been piecemeal and have tended to concentrate on one author or one era of our history. It's with great pleasure that I recommend to readers therefore, the new and excellent book by Nancy Dixon, N. O. Lit: 200 Years of New Orleans Literature. Nancy has presented pieces of this book in the past at the Faulkner Society's annual Words & Music festival and in her presentations she's always made her subject matter not only informative but accessible, entertaining. She's done the same thing with the book, starting with the oldest known play written and produced in New Orleans, Paul LeBlanc de Villeneufve's The Festival of the Young Corn, or The Heroism of Poucha-Houmma, dated 1809. She relates themes of that play to the pervasive violence in New Orleans today, giving the play contemporary relevance.  She leads us on through the 19th and 20th centuries and winds up with Fatima Shaik's story of desegration in the 20th Century. It's 500-plus pages of great stuff and when you see it all together like this, it's impressive and will no doubt enforce our tendency to go on and on about our literary heritage.
—Rosemary James, Co-Founder, Pirate's Alley Faulkner Society and Words & Music, author of My New Orleans: Ballads to the Big Easy by Her Sons, Daughers, and Lovers and of Plot or Politics?
These short pieces, threaded to the city's history via succinct introductory notes, are perfect for assigned classroom work as well as casual reading. Dr. Dixon's assemblage of essential New Orleans and lesser-known writers will readily prompt students and others to delve further into the lives and works of these authors.
—Michael Mizell-Nelson, Associate Professor of History,University of New Orleans.
This gathering of New Orleans writing traces nearly three centuries of activity, presenting poetry, prose, and dramatic literature by dozens of authors, both celebrated and underappreciated.  The variety and quality gives the contemporary reader much to contemplate about New Orleans as both a subject and source of literary inspiration.
—John H. Lawrence, The Historic New Orleans Collection
---
Authors Featured in the Collection:
Paul LeBlanc De Villeneufve 
Charles Gayarré
Thomas Wharton Collens
The Poets of Les Cenelles
Chahta–Ima
Charles Alfred Mercier
Walt Whitman
Xariffa
John Dimitry
Pearl Rivers
Sallie Rhett Roman
George Washington Cable
Ruth McEnery Stuart
Lafcadio Hearn
Kate Chopin
Grace King
M.E.M. Davis
Alcée Fortier
Leona Queyrouze
O. Henry
Alice Dunbar Nelson
Sherwood Anderson
Frances Parkinson Keyes
Lyle Saxon
Elma Godchaux
William Faulkner
Hamilton Basso
Los Isleños Décimas
Eudora Welty
Tennessee Williams
Truman Capote
Shirley Ann Grau
Tom Dent
Everette Maddox
Richard Ford 
Andrei Codrescu
Valerie Martin
John Biguenet
Moira Crone 
Fatima Shaik
---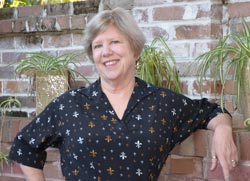 Dr. Nancy Dixon has been studying and writing about New Orleans literature, culture, and history for over twenty years. Her book, Fortune and Misery: Sallie Rhett Roman of New Orleans, (LSUP 1999), won the Louisiana Endowment for the Humanities (LEH) Humanities Book of the Year award in 2000.
---
Nancy Dixon interviewed at the Tennessee Williams Festival, 2014: